Turkey: Projections and resolutions for 2016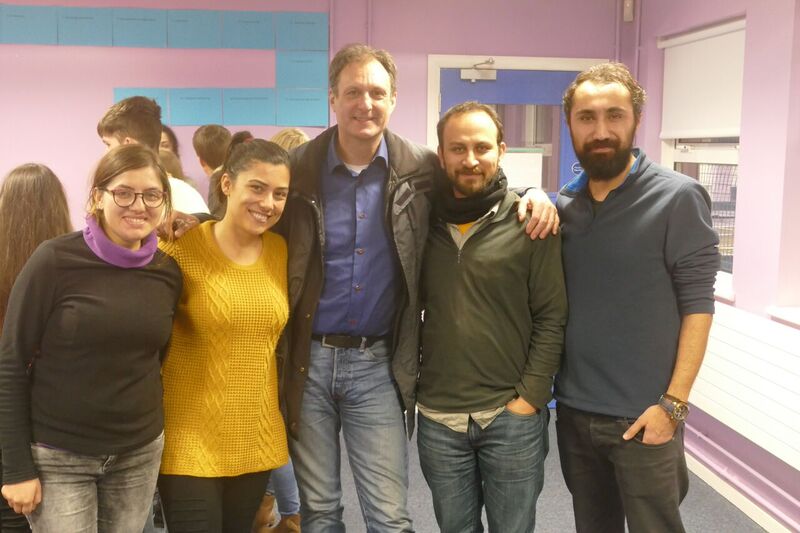 Interview with
Can Ercebe: Head of Field Development
Emine Kaya: YouthBank Project Co-ordinator
Sevcan Koç: Project Co-ordinator of Pinhole Youth Centre of TOG
Hasan Altunok – YouthBank Project Assistant
Photo: (Left to right) Sevcan, Emine, Vernon Ringland, Can and Hasan
How is YouthBank Turkey progressing since its beginning?
When YouthBank was first initiated in Turkey in 2010 it started with only two pilot teams. Now, as we reflect on what we have achieved, we can confidently say YouthBank is now a very well known model across Turkey and continues to grow.
The YouthBank model provided us with an excellent route to connect with young people aged 15 – 25 across Turkey and we completed 2015 with 11 teams supporting 80 projects in areas including Human Rights, the Environment, Disabilities and other areas the volunteers are interested in.
What are your plans for the growth of Youthbank in 2016?
We have just completed an open call for local institutions across Turkey to apply to run YouthBank projects in 2016. We received 32 applications and overwhelmed with the enthusiasm expressed and variety in applications.
We can clearly see that local institutions know how beneficial YouthBank is and how if affects young people. It is very encouraging and promising that they want to be a part of YouthBank, embracing it for both the youth of Turkey and desire to host it within their institutions.
In 2016 we will arrange a field visit for 7 of the applicants and a press election for all 32 applicants. Following this we will select 14 institutions to work with. We will be choosing a variety of institutions, local high schools, local ministries and municipalities to work with to ensure we get excellent variety.
How is YouthBank changing as it continues to develop?
We are currently planning further developments for YouthBank Turkey which will commence in the New Year. One of our initiatives is YouthBank Training Pool. This will involve an open call to volunteers to undertake training on how to support their peers and will cover areas such as project management, budget control and risk management. Volunteers will be trained on how to use their expertise and knowledge and share this with their peers. We are also working on two YouthBank Guide books that will be published in 2016 designed to assist volunteers with running YouthBanks complete with all the processes.
Has the YouthBank model changed since its introduction to Turkey?
Yes, there are a number of sub-projects that we continue to work on that involve adopting the model to suit cultural requirement. 2015 saw the launch of a pilot project targeting 72 girls aged 15 – 17 who were in youth dormitories in disadvantaged areas of Turkey. Following the completion of the project, the results were tremendous indicated a life changing experience for all the girls and for them, it was the first time they had undertaken a programme that was not associated with school or religion.
We plan to roll this project out in 2016 across six dormitories and our projections are to target approximately 200 young women next year.
What other resolutions do you have for the New Year?
The New Year for us will see the implementation of a new research project to map youth centres across Turkey. This project will take 6 months to compete and allow us to identify youth centres that are attached to ministries and municipalities. From this network, we will then be in a position to identify the number of youth centres that have access to funds and volunteers to run the YouthBank programme. This will help us to reach out and encourage adoption of the YouthBank model across Turkey. Eventually, we expect two of these youth centres to work independently running YouthBank. We will also be setting up an online community as an additional support mechanism.
We also have the YouthBank Hub commencing in January 2016, a new project involving Turkey and three other countries and will focus on involving young people to become a part of their local decision making process.
Finally, how has your visit to Northern Ireland been from a cultural perspective?
We have been quite shocked at the similarities between Ireland and Turkey in relation to the background of both countries regarding difficulties and conflict and how YouthBank connects the youth despite these problems.
It was fantastic to explore the differences between the Northern Irish and Turkish YouthBank. What we noticed in particular is the different methods of fundraising implemented in Northern Ireland in comparison to how we operate in Turkey. Turkish fundraising is dependent on collecting fundraising in-kind as we cannot raise money through fundraising. We also notice how local people are very willing to listen to and support young people guided by fantastic local co-ordinators, who encourage the youth to speak out and be heard.