Romania - Interview with Raluca Tripa and Bianca Marcoci
Platforms for Change in Romania
With a decade of experience behind them Romanian YouthBank is moving into the New Year with confidence. The end of year figures for 2015 are impressive: 350 high schools were involved in YouthBank projects across 15 cities, raising €47k (including €21k from national partners), to grant aid 106 projects benefiting in the region of 100,000 young people across the country. Fuelled with enthusiasm 101 young people attended a very successful Summer Camp, making connections and friendships, supporting and learning from each other.
Thanks to Sheena McGrellis for carrying out the interview on behalf of YBI
Bianca Marcoci (Romanian National Coordinator) and Raluca Tripa (Financial Coordinator) consider some of the challenges and highlights behind these figures. Last year they were keen to involve high schools whose catchment includes students from more disadvantaged backgrounds. In Cluj-Napoca, teachers in these schools were recruited to a pilot training project to learn more about YouthBank and the application process. They in turn encouraged and supported their students to make 11 applications for funding. Six of these were subsequently funded.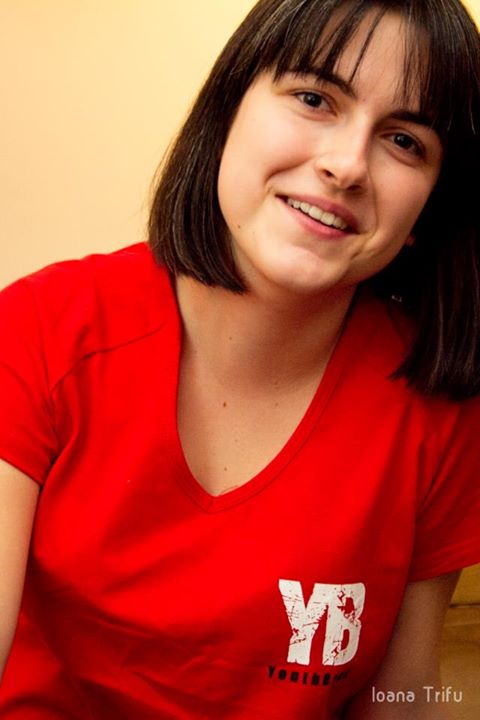 Bianca Marcoci
Such funding has given one group of young entrepreneurs in Bucharest a start up in what has become a successful business adventure. With their own peer group in mind they developed an Application to help final year students prepare for exams. A YouthBank grant allowed them to get their idea off the ground and to secure partner funding for development and promotion. The App is now enjoying success right across the country.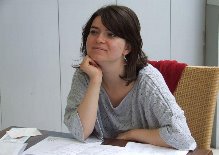 Raluca Tripa

The National Coordinators are hoping that technology will also help them address some of the other ongoing challenges they face. For example, they have enlisted the support of an IT expert to establish a computer platform with a view to making the grant application process more user friendly. Ultimately, they want to make the programme accessible to all young people so that YouthBanks reflect the diversity that exists within society.Social media and the and digital world are a defining part of modern life. Recognising that today's young people are growing up in a very different world to the one that the first generation of YouthBankers lived in, Bianca and Raluca have got their thinking caps on. They know that what appealed to and worked for young people ten years ago, does not necessarily cut it today. 'Young people are used to getting big rewards for little effort', Bianca comments. With a click of the mouse information and entertainment is at their fingertips. This, she says, is very different to how YouthBank works, where 'you have to work hard to get the big results.' As such, some young people 'get a bit lost and lose motivation.' Undeterred, YouthBank in Romania is determined to move with the times. They plan to consult with young people to find out how parts of the YouthBank programme can become more attractive and accessible to this digital savvy generation. As Bianca comments 'the answers will come from the young people.'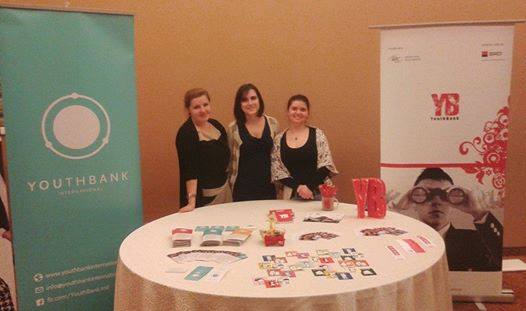 Bianca Marcoci (centre) and Raluca Tripa (right)
Raluca knows from working at the local level that it can be difficult sustain motivation among coordinators. She and Bianca intend to organise a series of expert Webinars for the 200 YouthBankers covering topics such as applying to university; studying abroad; fundraising; and IT skills. They hope that as well as providing useful skills and knowledge the Webinar will help foster a greater connection between the local teams and a closer link with the national organisation.
Another familiar challenge is fundraising, and as part of their 2016 fundraising strategy Romanian YouthBank is considering a Direct Debit scheme. Using the template employed by ARC, they hope to encourage parents, then employers and businesses to get on board. At a national level they are trying to find new funding partners and again are looking to the IT world, and the many IT companies based in cities like Cluj Napoca. Raluca and Bianca are preparing to sell YouthBank to these companies, and to convince them that investing in young people is a prudent move.