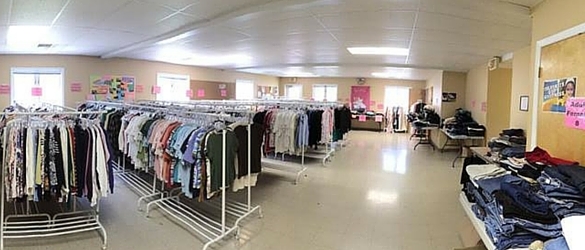 Help Clients Select Clothing Items.
Locationtion: Mountainview Moravian Church
Dates:Set up: August 9th-12th
Distribution: August 20th and 27th 8:30am-1:00pm
January Dates: TBD
Age: 15+
Cost: Free
Contact Info: BethAnn Seibel at mountainviewmoravain@verizon.net or
Rev. Jodie Harney at jlharney212@gmail.com or 610-838-9344
Many local individuals and families struggle with a lack of resources to meet basic needs. The Mountainview Moravian Church Clothing Ministry seeks to be 'the hands and feet of Christ' by offering free clothing to residents in need, while creating a welcoming environment that affirms the dignity of all people. To date, this ministry has helped over 1000 people distributing over 15,000 pieces of clothing! This ministry is sustainable because of the participation of volunteers during the distribution days.
Under the guidance of the congregational coordinators, volunteers assist the clients in selecting clothing while extending hospitality to guests.